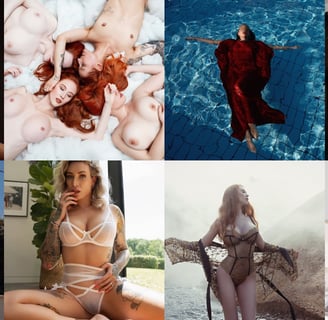 To plan a successful photo shoot, there can be a number of things to consider depending on your goal.
I've put together a little list of good things to do when considering/planning a professional photo shoot.
Inspiration & Purpose
Before diving into the logistics, it's essential to have some inspiration and clarify the purpose of your photo shoot.
Are you aiming to capture a simple straightforward shoot that just matches a typical glamour look, or something more fashion based, conceptual/artistic, indoors or outdoors, multiple outfits or just one or two well considered sets?
What's the goal, the audience, and where are the images going to be used.
Understanding your objective will guide your decisions throughout the planning process.
Obviously the less in-depth then the less you have to worry about the following, but for something more unique or tailored then planning is important.
It's a good idea to compile a list of images you've seen that you love the vibe of. Take a look at magazines, do online searches, and use various online platforms to search for inspiration and/or to follow your favourite people, mags, brands, artists, photographers etc.
Then shortlist and narrow these inspiration images down so it's not so confusing, and focus on less rather than more.
Location Ideas / Shortlist Inspo
Start thinking about the kind of location you'd like. Is it indoors or outdoors, modern or old, cold or hot, dry or wet, dark or bright etc.
Will it be local, a drive, a flight?
Also, begin to shortlist your inspiration moodboard and start finalising what you like and the direction you're taking.
You could use software like Milanote or Freeform to brainstorm your ideas and start building a plan.
Choose Your Photographer
There are so many options out there so do your research.
Good points to look out for:
- Established and professional.
- Good t&c's that ensure both safety and reasonable monetary terms.
- Honest reviews, testimonials, and/or recommendations.
- Decent online and offline presence.
- Do they produce regular good content?
- Does both their shoot style and edit style match your ideas and expectations?
- Are they experienced with your preferred styling, body type, skin tone, hair, personality etc.?
- Have they shot any of your moodboard or have similar work?
Once you've decided or shortlisted it's a good idea to exchange a couple of emails, messages or even a phone call to see if they have a good attitude to you as a client and confidence in their work. Also, so that you can find out a bit more regarding any of the above points if there is not enough public information.
Ready to Book
Communication - Ask any questions you need to ask, and get the answers you need. Share your vision and ideas for the shoot. This will help the team understand your expectations and ensure that everyone is on the same page.

Package - how much time do you want, do you require hair/makeup, how many retouched images etc.

Date - select a suitable date that works for all involved, and one that gives you time to plan and budget. Consider factors such as weather conditions, and the type of lighting you desire. For example country, season, time of day etc.

Location - if you haven't decided on this yet then let the photographer know you will be booking your own space, or ask if the photographer can help with this. If they can, then consider that this is additional time/work for them, and thus the deposit would need to be paid to confirm, or some may request an additional fee.
Location
Decide the region you're shooting in.
Is it a travel destination or a local one?
Is it indoors or outdoors?
What is the style?
What is the light like?
Finalise and book your location.
Make a note of the areas you want to use.
Outfits
Plan your outfits carefully, taking into consideration the theme or concept of the shoot.
What designs, textures, and colours compliment your chosen location?
What outfits compliment your body type, skin tone, hair, personality?
Consider the use of accessories and fabrics.
Experiment with different styles and looks to finalise your ideas.
Research brands, ask friends, ask peers, or even ask the photographer if they have ideas or a brand list.
Create a Shot List

A shot list is a valuable tool that helps you stay organized and ensures you capture all the essential shots.
Break down your shoot into different scenes or poses, and list the specific shots you want to capture for each.
This will help you stay focused during the shoot and ensure you don't miss any important moments.
Try not to give yourself too much to work with as it'll become confusing and time consuming.
Communication
Communicate and share your ideas and direction with your photographer.
Discuss anything you feel might be useful or important.
Be Flexible and Adapt
Despite meticulous planning, unexpected situations can arise during a photo shoot. It's important to be flexible and adapt to changing circumstances.
Weather conditions can drastically change, the lighting could change, the location can be different than expected.
Accommodating last-minute changes, or improvising with limited resources, embracing flexibility will help you navigate any challenges that come your way and keep you positive.
On the day of the shoot, arrive prepared and well-rested, ready to give your best performance.
During the shoot, be open to the photographer's direction and suggestions, while also expressing your own creativity.
This collaboration will result in capturing your ideas and bringing them to life.
What to expect throughout my booking/shoot process
On my website here there is some basic information on what to expect pre-shoot, on shoot, and post shoot.
Do feel free to get in contact if you do have any questions or concerns.
Conclusion
Planning a photo shoot can sometimes require careful consideration and attention to detail depending on your goal.
If it's something more specific, and more creative then by defining your objective, choosing the right location, thinking carefully of your outfits, contrasting colours/backdrops, creating a mood board and/or a shot list, you set yourself up for success.
Remember to communicate, be flexible during the shoot, and try to stay positive and get out of your comfort zone.
With proper planning and execution, you can expect stunning results that capture the essence of your vision.
By following these steps and maintaining a positive attitude, you can expect a more successful and enjoyable shoot experience.